Migrant Programmers Celebrate Jorge's return to Cyberspace

Last Friday Evening marked the return of the monthly Migrant Programmers Meeting, which was held at the Winking Lizard in Cleveland, Ohio. The turnout was smaller than most gatherings but it is believed that attendance will increase as members start accessing the website and finding that it is once again in operation.

"We are redesigning the website to take advantage of the technologies that are available to us by our new web-host provider", stated Chuck Miller, one of the Webmasters of the site, "Jeff Jaynes and I will be utilizing ASP and SQL Server on the site as well and we hope to get contributions from Migrants out in the field for our technologies section."

When asked why the site had been shut down for so long Chuck replied, "Well, maintaining a site costs money and as Migrants, we sometimes get bogged down on "special projects", which was the case with MigrantProgrammer.com We will be adding a gift shop section to the site, which will contain coffee mugs, mouse pads, shirts, and hats that will help offset the costs of the site. And since we will be getting technical assistance from other Migrants in the field, the site should be easier to maintain."

The Migrant Programmer meeting is normally held on the last Friday of every month. The next meeting will be January 28, 2000. For more information on this "gathering" contact the webmaster@migrantprogrammer.com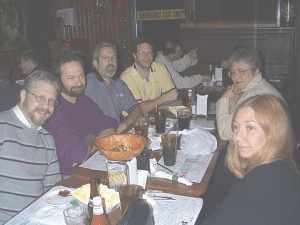 The Monthly Migrant Programmer "Gathering"