Sparky the S.P.A.M. Killer takes ill.

Sparky the S.P.A.M. Killer, the dog made famous by eating a portion of the damaged Sentient Paranormal Amoeboid Mass unit, has taken ill. Sparky has been in seclusion for some time since Dr. Marshall Bowman handed him over to the I.S.S.T. prior to his website being shutdown. "He has given us all so much wisdom - take care of him as I have over the short time I have known him", were Dr. Bowman's words as he left Sparky with an underground operative of the I.S.S.T.

Sparky swallowed a portion of the damaged S.P.A.M. unit back in 1936 when it crashed to the earth in a remote farm in rural Nebraska. Government officials took Sparky from his farm along with both the damaged S.P.A.M. and the undamaged S.P.A.M. units. It became obvious after several years that Sparky had developed superior cell regeneration capabilities, which the government began studying.

After decades without success, Dr. Marshall Bowman was assigned to study the genetic abnormality within the small dog. After Dr. Bowman had conducted several tests, the dog expunged the strange space meat that had been lodged within his body for such a long time. Dr. Bowman began extracting data from the small piece of S.P.A.M. and to his horror had uncovered some startling information, which had been hidden from the public for some time.

Unfortunately, the S.P.A.M., which had been sustaining Sparky's genetic superior regeneration capabilities, ceased when he expelled the space meat and Sparky again began to age normally. He has been on several medications to assist him but unfortunately they are beginning to fail. Sparky will be taking a trip to the hospital this week to see if there is anything else that can be done to help him. He is unable to walk and spends most of his time resting on his favorite bed. Our thoughts are with Sparky at this time. He has meant alot to those who have known him.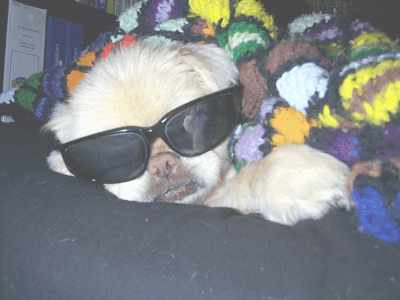 Sparky the S.P.A.M. Killer resting on his favorite bed